cell: 310-435-9204 email:
2010 Web Projects
This is a sample of my 2010 web design work.

Gina Misiroglu and Nicole Venables asked if I could build a website to showcase their new motivational empowerment philosophy for women. It needed to be dynamic and inspired by the comic heroines and action femme fatales that are at the center of their vision. This was another great opportunity to work with Dan Lapham, who did the Supervixen character for them.
Bill Marx, the oldest son of Harpo Marx, wanted to make a webpage dedicated to the memory of his father. We gathered together a selection of photos and stories as related by Bill and put them together in this online collection. If you don't know much about Harpo beyond the Marx Brothers movies, you should do yourself a favor and visit the site. He was a fantastic individual.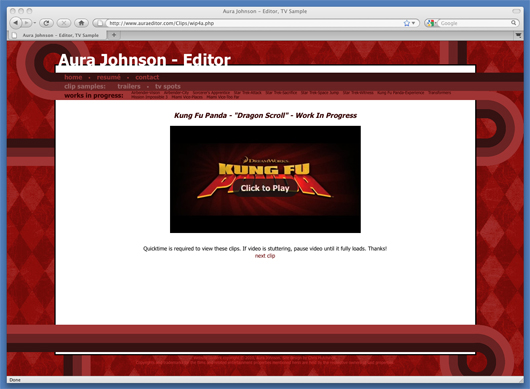 Aura Johnson, an award-winning editor, needed a portfolio site for her clips. A project that started as a simple list of links to clips turned into a weekend web design project. Not including the time it took to conform the clips themselves for web formatting, the whole process took about two days.