cell: 310-435-9204 email:
Other Web Projects
This is a sample of other web design work I've done as personal projects, family projects or favors.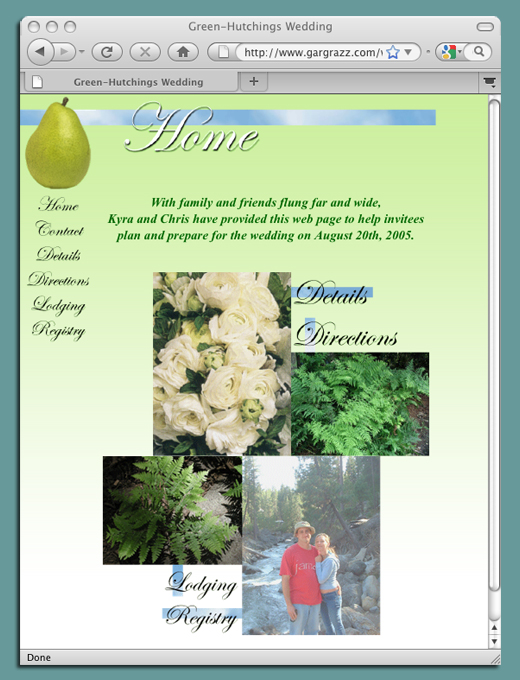 My wife and I were married in 2005. She having family in England and myself having family all over the Southwest AND a remote wedding location in the High Sierras, I thought a web-based invitiation complete with travel details would be appropriate. The pear was a teaser element as both the color and the fruit itself were a focal point of the wedding decorations. We left the site up so we could walk down memory lane now and then... and it's more durable than a slice of cake.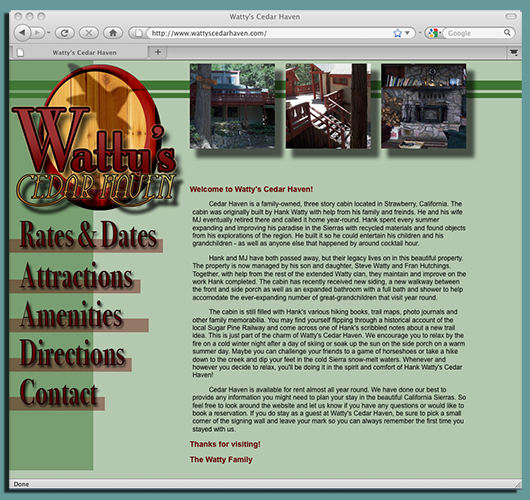 This vacation rental site was comissioned by my family. It's simply a low traffic informational site about our cabin that we rent in the Summer. It was time the cabin needed a web presence and it was time for me to brush up on some HTML.
This is an archived version of the website I built for the World Adult Kickball Association California Dogtown Division. The division was named after the iconic skateboard and surfing culture that sprung up in the area. WAKA eventually shifted to a template based web presence for their division pages. Thus ending the wild and wooly days of building region specific kickball pages.
This archaic hobby-site chestnut from circa aught-one was my first major effort in building a fully functional flash site with all the bonks and steam whistles. It never got to the point of actually functioning beyond the top level navigation and I quickly learned the hazards of too many bitmaps. But the grand experiment of creating functional chaos still charms me to this day. If you were wondering why my portfolio domain is "Gargrazz", then here's your answer. Gargrazz was my Warhammer 40k Warboss (the chap in the upper left) and my brother bought me this domain as a birthday present in our 40k heyday. I regret nothing!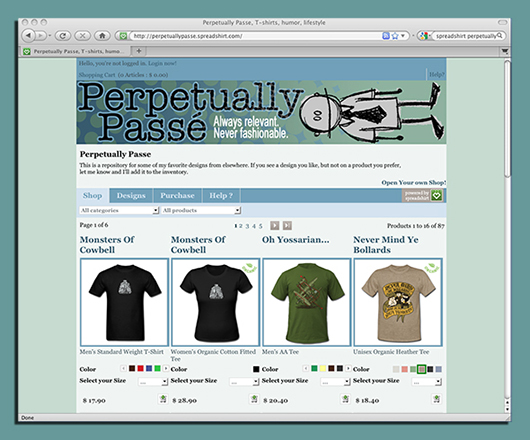 I will admit, I didn't design much beyond that banner graphic and I picked some colors. Spreadshirt's responsible for the rest. But this is where I sell my own T-shirt designs and figured it was a good enough place to pimp it.